The Full EssayWriter Review

we do not recommend "EssayWriter"
Many students and academic writing service users come to our website to check the latest reviews of essay writing services to find a suitable service provider for them. Today we are reviewing another essay writing service that draws our attention recently. In this EssayWriter Review, you will get to know everything you need to know about EssayWriter and their academic writing services.
The website has a bit of messy interface that is filled with texts everywhere, which makes it hard to read, navigate, and explore. The company has a considerable number of professional essay writers who are dedicated to providing you with a high-quality essay paper from scratch, as they claim. Although, their number of writers is never mentioned on the website anywhere.
The company claims to provide all the students of all different academic levels with all possible academic services they may need. EssayWriter writing services are not limited only to high school, college, post-graduate students.
Pricing System
If to compare Esssaywriter.org with other essay writing services available in the market. You will notice that their prices are average-low. Such low prices are a bit lower than the average, which means that there is no way they have native writers available on their team, and their uniqueness can be doubted. Therefore, EssayWriter can easily be another sketchy essay writing website that provides people with low-quality papers.
For the writing services, their prices start at $12.46 per page for 7 days deadline. The price is quite low for the market, which gives them the advantage to attract more students who may not care about the quality of the papers. Many other companies in the business have their prices starting at $11-$14 and still provide some fine quality.
For the editing services, EssayWriter may seem like they are crushing the prices. Their editing service starts at $5.12 per page. Those prices would work for high school students whose budget is limited. But the quality of the service provided can be improved significantly.
For the Proofreading service, the prices are starting from $7.35 per page.
Problem-solving services, such as advanced academic service, usually costs around $12-16, and EssayWriter.org offers the service for $15.33, which is average.
Besides those four types of service, EssayWriter claims to offer more services that we will be discussing in the next section. For the pricing system, EssayWriters has affordable prices for but low-quality service. Unless they improve their quality, there is no chance for them to grow any customer base.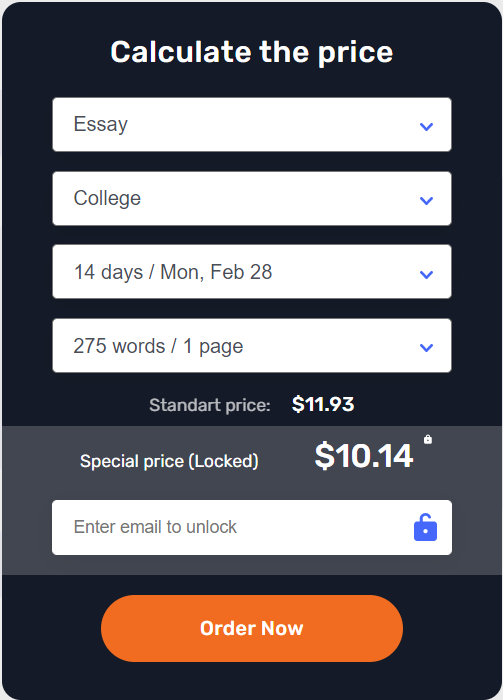 Types of Services

Customers have the option to start placing their order on the homepage at EssayWriter.org. Then they will just follow the basic 3-step process that is common among the academic writing service to complete their order. First of all, they offer only 5 options to choose from:
High School
College
Undergraduate
Master
D
Then you get to choose the type of work you need for a list of over 30 types of different tasks like the essay, rewriting, thesis, assignment, and many other academic tasks. The list is not limited only to academic tasks. You can also find many professional business tasks such as study case, resume writing, business plan, reports, and others. They have a professionals services list but no way to choose the type of work required as business they only offer academic level, which is a bit confusing.
As a customer, you have 3 different writer preferences to choose from:
Best available. This option is mainly for high school and college students. They can still get some paper done for the standard price without any extra fees.
Top writer. This option can be considered more professional as you get a first division expert in the required field to work on your paper. This level of professionalism may be useful for undergraduate students who may need help with their university projects. If you want to get the top writer option, you should keep in mind that there are fees of $4.6 value per paper.
Premium writer. The highest level of all 3. This option is perfect for those who need a real professional writer who can produce a perfect paper without a single flaw. But if you look at the description of the writer, you notice that it is the same quality as the "Top writer," just a more expensive version for no apparent reason. For this service, you will need to pay an extra $9.20 per page.
After choosing the most suitable writer for your requirements, you will get to the last step where you can buy additional services like plagiarism report, quality check, initial draft, 1-page summary…etc. Most of those additional services are supposed to be for free, but Essaywriter.org decided to charge extra for them. Now that we are done with the types of service let us move to the payment section.
Don't waste your time and watch our all reviews.


Payment Options
Essaywriter.org is accepting payments through credit and debit cards, and they also have some alternatives check out method. Both payment methods should be secure and safe to use.
Any transactions that are done via Visa, Discover, MasterCard, or American express is totally secured. And the other payment method, secure checkout, seems okay as a payment method that can be used safely without worrying about any financial data from being stolen or leaked.


Guarantees
Like any writing service provider, EssayWriter offers its customer a money-back guarantee policy that allows the customers to refund the payment within 14-30 days duration depending on the length of the paper. Both money guarantee and revision request policies are a bit unclear, so you can easily misunderstand some points.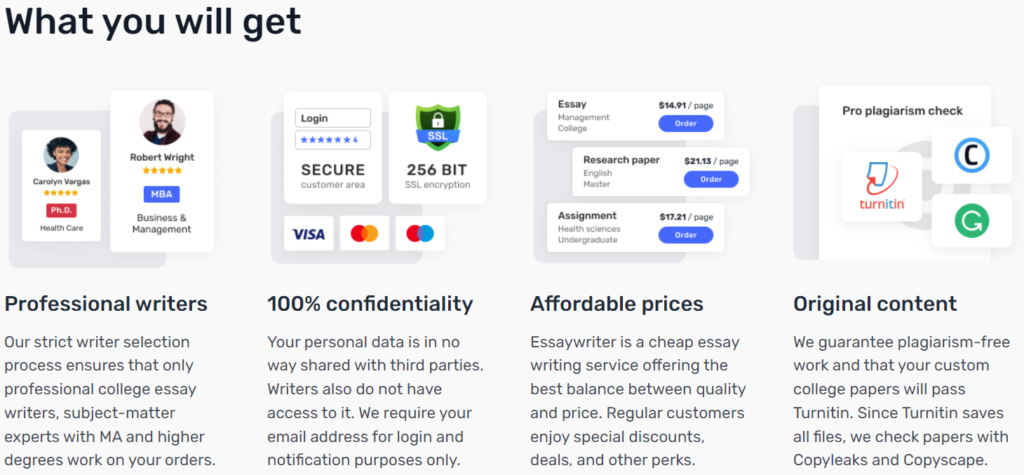 Money-Back Guarantee
Satisfaction guarantee, as they mentioned on EssayWriter.org, is a basic policy that protects your rights as a customer to take your money back in case of some error or problem. In most cases, the situations are not clear, and the refund usually takes longer than it should be approved, and sometimes the case requires some investigation from their side, which takes even more time.
For example, if for any reason the writer was late with delivering the paper on time and the client does not need the paper anymore, the customer should have the right to request a full refund in this case.
But if the customer decided to cancel the order while it is still in progress. Then the customer here can get a partial refund. The percentage of that refund is determined by when the order was canceled. If it was before half the duration passes, then the customer gets a 70% refund. On the other hand, if the same thing happened but the cancellation was requested after half the duration passed. There is a high chance that the client will not receive and refunds.
There are also cases where there is no possible way to refund your payment. This may happen if you do not check the terms and conditions page where the policies are mentioned.
If you accepted a task from the writer and released the payment already, there is no way to refund that order.
Revision Policy
The revision policy is pretty basic and clear. EssayWriter allows their customer to request as many revisions as they want for 2 weeks only after the writer finishes working on the papers.
Is Site Legit?
EssayWriter is a bit sketchy, and their service quality can be improved. In fact, we have checked some main important points and found that:
They do not have a huge team of professional writers as they claim, and most of those writers are from different countries, but only a few are natives.
Once you become a customer, you have the right to communicate with the writer anytime you want. So better check the progress of your order not to miss the deadline.
Both the payment methods are legal and secure.
Pros
Writer preference available. You can choose the most suitable writer for your papers depending on the writer's experience and customers feedback
Unlimited revisions. Essaywriter allows each customer to request as many revisions as needed until they are satisfied with their papers but only within 2 weeks duration
Cons
Charges extra for the basic additional services like plagiarism report, quality check, and initial draft.
They always want to sell more, which may affect the overall quality of the resulted papers.
Difficult to find some real native writers
Using stock pictures instead of their real writers
The overall quality can be improved
Fake testimonials and reviews
To Sum up
While many online reviews would just tell you to go and use the service, we wanted to review EssayWriter before recommending it for you. The overall feedback is quite negative, and we would like to warn you about using such an essay writing service as it may affect your academic progress, especially with their low prices and high-quality marketing slogan. Plus, offering many services while they are not ready affected them badly because no they cannot deliver any of those services in fine acceptable quality.
Anytime you want to try some new essay writing service just to compare the difference in quality and price. You can consider checking our other reviews where you can find a better option for you.
Read also a review about one of the good services Paperell Review. There are also not bad services, but they are far from ideal paperwriter.com.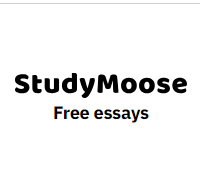 № 1 StudyMoose
Writer:
Over 500 Native Speeking Writers

№ 2 EduBirdie
Writer:
1000+ Native Speeking Writers

№ 3 PapersOwl
Writer:
700-800 Native Speeking Writers

№ 4 GradesFixer
Writer:
Over 500 Native Speeking Writers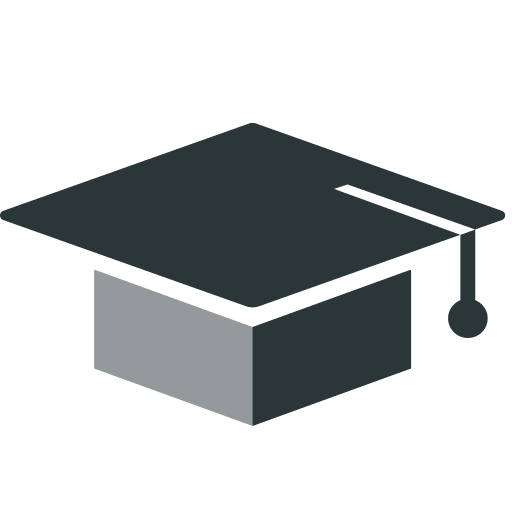 № 5 Graduateway.com
Writer:
500+ Native Speeking Writers