A Comprehensive Paperhelp Review

we do not recommend "Paperhelp"
Upon loading the Paperhelp platform, you won't miss noticing the quirky design that alludes to you reaching out for help in a different galaxy, which is something uncommon with most paper writing service sites. Rockets and astronaut imagery aside, Paperhelp.org still carries a professional air by having a clean layout that makes navigation a breeze.
The homepage offers up information on its rating with various review sites, how to use the platform, and even statistics on the work they've churned out so far. The order form is prominently displayed to help you get started quickly, while a free price quote is also available in case you're not sure about how to compile your first order.
Paperhelp has been around since 2008. Its parent company, CoreForce Ltd, is based out of Larnaca, Cyprus but also has offices in Minnesota, USA. Other paper writing service providers under the same company are WriteMyEssays and MyAdmissionsEssay.
The Site's Pricing System
Paperhelp has a dedicated prices page that gives you the categories of the available writing services, links to order forms for different academic levels, helpful extras you can add to your order, as well as available discounts and coupon codes. Clicking on the service category gives you the average price you could pay for the different education categories here. From there, you can proceed to start building your order by selecting your preferred education level.
Something we noticed about the prices at Paperhelp is that they're fairly lower than those on other sites. For instance, you can get a multiple choice question paper done for between $1 – $2 a page. These get determined by the education level, with high school submissions attracting the lowest charges per page. Price ranges for other services per page range between:
$6 – $8 for proofreading and editing services
$10 – $20 for papers written from scratch
$15 – $30 for problem solving orders
$25 – $41 for getting help with admission papers
Additional perks that you get for being a member at https://www.paperhelp.org are access to the referral and reseller programs.
By using your referral code to bring more members to the platform, you earn 10% of the total amount of each approved order. These get added to your user account in the form of credits that can be used to make future orders. As for becoming a reseller, this will earn you a percentage off of the orders you make on behalf of other students. Simply ensure that you follow through on all orders from the beginning to the end to earn your percentage.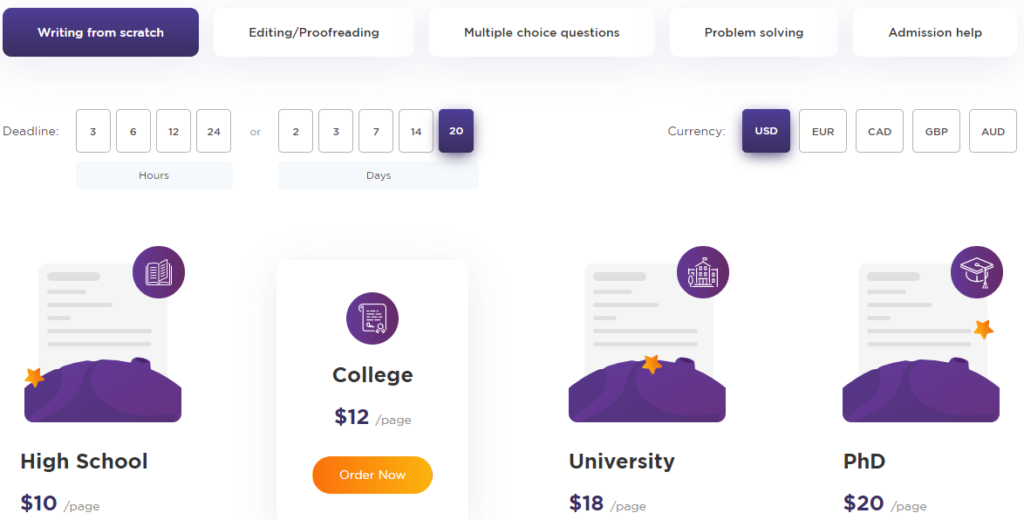 Types of Services

Something unique about this platform is the diverse number of services available. Paperhelp offers close to 60 paper writing services for students to choose from. These are all divided into various categories to make it easier to find and include:
Essays
Dissertations
College papers
Coursework
Homework
Research papers
Case studies
Questions and Problems
Admissions
Term papers
Assignments
There are also two bundled categories titled Disciplines and Others that cover additional options like:
Business writing
Poetry writing
Subject essays for disciplines like nursing, law, psychology, sociology, economics, social work, history, English, and philosophy
Speeches
Marketing essays
Resumes
With each service, you can look forward to options like writing the paper from scratch, buying an existing paper on the topic, getting help to complete what you've already started work on, and grading or even getting guidance on a completed paper so you can polish it as necessary.
Writer Selection
Paperhelp employs a rigorous process to help ensure they only recruit the most qualified degree holders from the US, Canada, the UK, and Australia to work on orders. The first selection stage checks the writers' grammar and writing skills. This is through a score-based series of tests that determine the writers' English level, knowledge on how to avoid plagiarizing work as well as their writing quality.
Only those with the necessary scores proceed to the second stage which is an online interview. This is used to check the writers' personalities as well as their ability to handle pressure, which is common in this industry. From there, those that pass the interview start working under supervision for one month. During that time, they get assigned tasks that help them create their reputation as far as dealing with orders, and also earn stars towards their rating score on the site.
After the supervised month, the writers get assigned to one of the three Paperhelp categories. These are the Basic writer, Advanced writer, and TOP writer categories. The category gets decided based on the writers' years of work experience, level of English, feedback and star rating from clients during probation, and the quality of submissions.
Payment Options
Paperhelp enables you to complete your order directly on the site by using one of the available payment options. These are Splitit, Visa, Apple Pay, Mastercard, JCB, and Discover.
Unfortunately, you cannot pay for your order in instalments on this platform. Full payments of the order amount must be done before a writer gets assigned to start working. The same applies to any extras you would like to get that add additional costs to your Paperhelp order quote.
Since Paperhelp.org uses secure payment options, you can expect instant payments that enable the platform's team to start looking for a writer as soon as your transaction gets confirmed.
Guarantees
The guarantees at Paperhelp are several to ensure their customers are at ease while procuring their services. For starters, everyone's privacy on the site is considered vital and that's why the only people with access to details like yours or the writers' names and emails are the platform's support team. The only thing you and the writers see when you have an active order is the user ID that gets assigned once someone holds an account here.
Besides that, Paperhelp also has a money back guarantee that covers several issues that may occur once you've made your payment. You can receive a 100% refund if you made a duplicate payment for the same order, if a qualified writer to handle your order hasn't been found, or if the ordered paper got delivered late and is no longer needed. In case of delayed delivery, you will not receive the completed papers or the copyrights on them as they're no longer yours.
In case you'd like to cancel an order that is already being worked on, you'll receive no more than a 70% refund on your initial order cost. That's because the platform needs to pay the assigned writer for the part they've already worked on.
Paperhelp also has a 50% money back guarantee if you need a revision of the completed papers yet there isn't a writer available to work on changes. You can also get this refund if you cancel an order that has had more than 50% of the work done on it already.
Keep in mind though that the platform's money back guarantee doesn't cover discounts.
Is Site Legit?
While researching this Paperhelp Review we realized that this platform is a legitimate paper writing services provider, owing to its reputation which spans more than a decade. Paperhelp offers services you're not likely to find on most other platforms.
Apart from that, Paperhelp.org is a secure platform that doesn't sell its clients' information or display it to the writers assigned to orders, giving both writers and clients the anonymity they seek.
There are also guarantees that the site adheres to, which help to ensure that first submissions are as close to perfect as possible. The guarantees also give clients a complaint resolution channel to ensure their experience on the site is satisfactory.
Pros
Offers plenty of writing services – this platform has writers that can handle more than 50 different paper writing services
Revision policy – you're entitled to three free consecutive revisions in case the submitted papers aren't to your liking
Low prices – you'll find some of the lowest prices here to get your paper done
Extra services available – you can choose whether to take the VIP Service or to add individual perks to the Standard Service to enhance your order
Cons
Free revision limitations – you can only get free revisions if the changes you need to be made are in line with the initial order's instructions
To Sum Up
Whether you're a student or gearing up to get into the job market, Paperhelp has services you can rely on. The writers here strive to meet deadlines and even when you have a problem with your submissions, you can request up to three revisions to get the desired outcome. You can also purchase extra benefits when you make your order at Paperhelp.org which include getting dedicated support and getting top-rated writers to handle your paper.
Paperhelp also offers discounts, a referral program, and a reseller opportunity that can help you earn from getting more people to make their orders here.

№ 1 EduBirdie
Writer:
1000+ Native Speeking Writers

№ 2 PapersOwl
Writer:
700-800 Native Speeking Writers

№ 3 GradesFixer
Writer:
Over 500 Native Speeking Writers

№ 4 StudyMoose
Writer:
Over 500 Native Speeking Writers

№ 5 Paperell
Writer:
500-600 Native Speeking Writers